Selling your used car privately can net you hundreds or even thousands more dollars than trading it in.
However,
you also take on more risk and responsibility to do it right.
Even as an experienced and tech-savvy car dealer, I was the target of some very clever scammers who almost got me.
This comprehensive guide covers everything you need to know to safely and successfully sell your used car yourself.
Key Takeaways:
Meet buyers in busy public places and bring someone with you.
Thoroughly screen buyers beforehand by phone and online.
Never take checks – cash or cashier's checks only after verifying funds.
Handle paperwork at the DMV to complete the ownership transfer.
Disclose any issues fully and focus on building trust.
Video: Car Dealer Identifies Used Car Scam
Table of Contents
Key Steps for Safely Selling Your Car Privately
| Step | Private Sellers | Dealerships | Online Marketplaces |
| --- | --- | --- | --- |
| Setting Price | Use KBB, NADA and Edmunds price guides to set fair asking price | Price within market range for quick sale; low pricing builds inventory | Determine offer price based on market data and vehicle inspection |
| Creating Listings | Post on multiple sites (Facebook, Craigslist) with detailed descriptions and photos | List on dealership website and online third-party sites to maximize exposure | Optimization for search engines brings customers to site |
| Screening Buyers | Vet all callers thoroughly; meet only local buyers able to inspect in-person | Check buyer identities; offer to facilitate sales of their private party listings | Use online identity verification and fraud prevention tools |
| Meetings & Test Drives | Meet only in public places; limit drives to 15 minutes | Designate areas for safe inspections; accompany drives or install GPS trackers | Schedule inspector visits or require dealership test drives |
| Receiving Payment | Cash or verified cashier's checks only; handle at bank | Accept various electronic payments, checks; wait for clearance | Instant online payments or cash offers after inspection |
| Transferring Ownership | Handle together at DMV after sale to transfer liability | Provide title transfer service; remind buyers to file | File title transfer paperwork on buyer's behalf |
Setting Your Price and Listing Your Used Car for Sale
Kelley Blue Book and NADA Blue Book offer free used car value estimates based on make, model, year, features, mileage and condition. Edmunds also provides a used car appraisal calculator.
Get quotes from multiple websites, adjust for recent repairs or upgrades, then set your price. It's better to start high and negotiate rather than raising the price.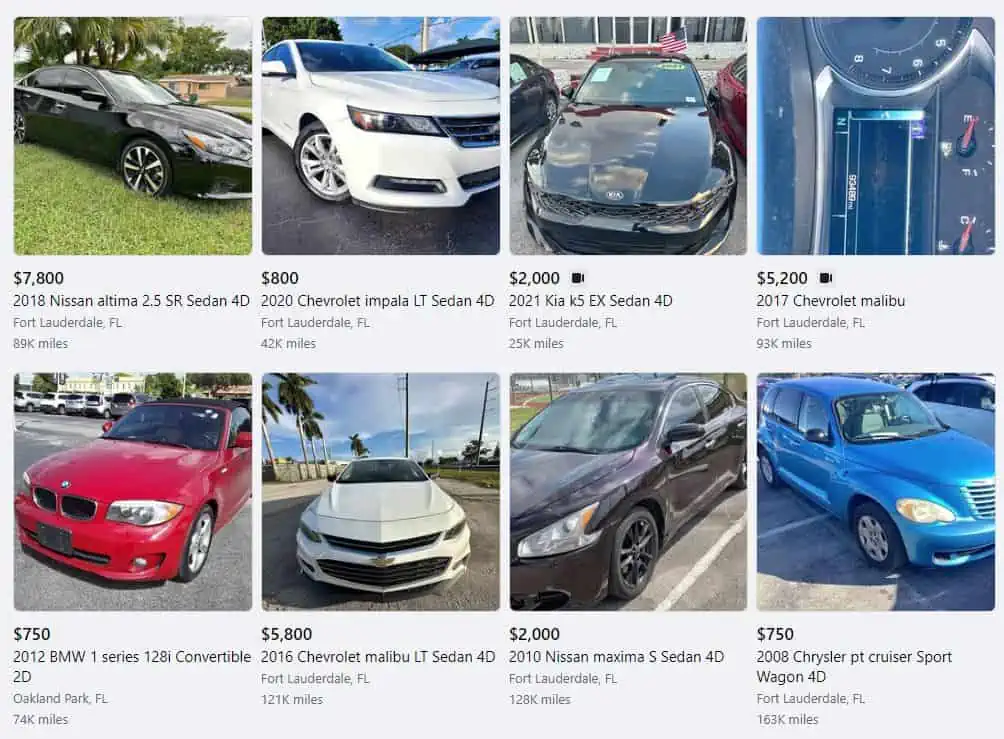 Next, create online classified ads and post them everywhere possible – Facebook Marketplace, Craigslist, eBay Motors, community bulletin boards, etc.
::: tip Pro Tip: Create a separate email address and Google Voice phone number just for the sale. Avoid using your personal contact info. :::
Include plenty of photos from all angles, plus close-ups of any imperfections or wear.
Be fully transparent to build buyer trust and avoid fraud claims later.
Screening Buyers on the Phone
As responses come in, talk to each person on the phone before agreeing to meet in person. Listen closely to the types of questions they ask about your vehicle. Serious buyers will ask detailed questions about service history and condition.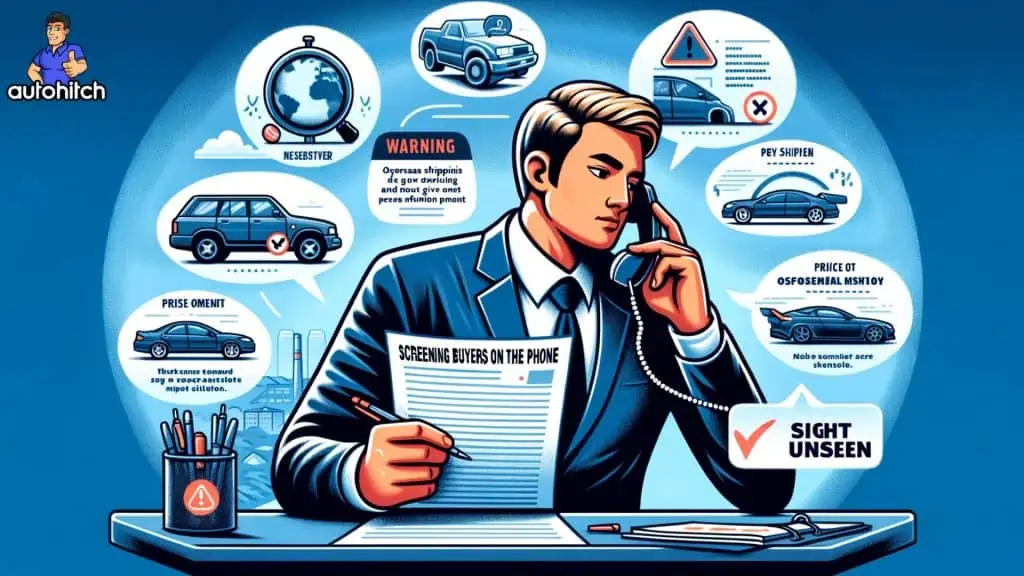 Beware of anyone who offers to buy:
Sight unseen
For shipping overseas
Above your asking price
Scammers often use these tactics. Verify a local address for in-person car inspection.
::: warning WARNING Never give out your home address. Agree to meet in public places only. :::
Ask for their name, contact number, and if possible social media profiles for background checks. Trust your intuition if anything seems suspicious – simply decline further contact.
Safe In-Person Meetings and Test Drives
Schedule meetings during the day in busy public places like retail parking lots under video surveillance. For extra precaution, bring a friend along.
Prior to any test drives, verify photo ID, insurance cards and proof of funds. Also be sure to:
Photograph their license
Note the exact mileage
Agree on a route and 15-minute limit
Call a contact during the drive
An accompanying drive can deter theft but isn't advisable. Instead limit risk by inspecting their credentials, setting ground rules, sharing the drive details with a contact, and using common sense based on their behavior.
Receiving Secure Payment for Your Used Car
Payment method is key to avoiding used car sale scams.
Never accept personal checks, wired money, online payments like PayPal or Venmo, post-dated payments, or suspicious cashier's checks.
The only foolproof, recommended techniques are:
Cash payments – Count bills carefully in a secure location like your bank. Beware, cash still allows for forged bills.
Cashier's checks – Accompany the buyer to watch the check issued from their bank. Or deposit and wait days for it to fully clear.
Money orders & bank checks – Same process. Have it issued on the spot and wait before releasing the car and title.
By taking payment at a bank and waiting for it to clear, you ensure real money changes hands first. Make copies of cleared payments for records before signing over the title.
Completing Ownership Transfer Paperwork
Selling paperwork proves you transferred ownership legally. Requirements vary slightly by state but commonly involve:
Vehicle title – Signed by you and buyer with sales price, mileage and date recorded.
Bill of sale – Records purchase details for both parties.
Release of liability form – Filed with the DMV so only buyer is responsible going forward.
Handle all paperwork at your local DMV immediately after sale.
Pay any transfer fees and keep photocopies. This completes the new title filing, tag renewal and registration under the new owner.
Now you are shielded from legal liability or parking tickets down the road even if the new owner delays transfers or registration.
Disclosing Damage History to Avoid Fraud
Used vehicles are sold "as-is" but you must disclose any current mechanical issues or damage history fully upfront. Omitting details is grounds for a lawsuit.
Beyond telling the truth, help protect yourself by:
Letting buyers take the car for inspection by a mechanic
Providing maintenance records
Noting any past repairs or issues on the bill of sale
Removing any personal information from the car prior to sale
A vehicle history report from the dealer, CarFax, AutoCheck or VinCheck Pro can help buyers feel confident too. Honesty and transparency will go very far to build trust and prevent buyer complaints.
Alternatives If Selling Privately Feels Overwhelming
Selling privately yields the most money in your pocket but also requires time and caution. If it ever feels too risky or stressful, reputable dealers like Driveo and services like CarGurus Instant Offer can buy used cars completely online.
Online dealers thoroughly vet cars, provide quotes after inspection, handle paperwork and pay quickly with direct deposit. This simplifies selling significantly. Tradeoffs are lower payment compared to private sales and less control of the process.
You Can Sell Confidently Using This Guidance
While listing your used car online opens you to potential scams, you can navigate sales safely.
Take precautions in screening buyers, meeting locations, test drives, accepting payment, completing transfers plus documenting condition honestly.
Patience, common sense and placing safety first allows you to successfully sell private party without all the risks.
Just follow this guide to cover all the right bases. You'll drive away with peace of mind and far more money than trading in.
Sources and References: