You can't legally participate in wholesale auto auctions and dealer-only sales without a license.
However, obtaining a dealer license does take some work. You'll need to meet requirements set by your state's Department of Motor Vehicles (DMV) and probably pass tests on vehicle sales laws. It can get complicated fast.
This guide explains exactly how to go from an auction outsider to an insider with a dealer license in your pocket, and as a bonus, I will include a last resort option the other guides won't discuss!
Types of Dealer Licenses
There are a few license options, each with different access levels to buying and selling vehicles:
Retail Dealer License – Allows you to buy/sell vehicles at wholesale, dealer-only, and public auctions. Gives access to the widest variety of inventory. Needed to operate a dealership open to the public.
Wholesale Dealer License – For buying and selling vehicles strictly between licensed dealers. Limits you to dealer auctions only. Easier to obtain than a retail license.
Motor Vehicle Dealer License – A general dealer license required for buying and selling vehicles commercially in most states. Can cover retail or wholesale activities.
As you're planning your business, decide if you need to interact with the public or just deal at the wholesale level. That will help determine if a retail, wholesale, or general license is best.
Key Steps to Get Licensed
While state requirements vary, most include these core dealer licensing steps:
1. Submit License Application
Start by completing your state DMV's dealer license application form. This will collect info on your business structure, finances, background, etc. There is usually an application fee too.
2. Get Business Registered
You'll need to legally register your dealership as a business in your state, get a tax ID number, and obtain any required sales tax permits.
3. Pass Background Checks
Expect to go through credit checks and fingerprinting for criminal record searches before being approved.
4. Acquire Insurance and Bonds
Dealer general liability insurance and surety bonds that protect customers are usually required. This guarantees you run your dealership ethically.
5. Secure Dealer Location
Most states require proof you have an office, dealership lot, and display space meeting requirements before issuing a license.
6. Complete Dealer Education
Some states mandate completing an approved dealership education course on vehicle sales laws and regulations.
With all that handled, you can get your dealer license approved and become auction-eligible!
Bonus Tip On How To Get Into Dealer Auctions
If getting a dealer license is a little more work than you were looking for, there is a more "Black Hat" option available:
Find a dealer to allow you to bid under their license.
It's not exactly ethical and violates most auction houses' rules, but essentially all you are doing is having a licensed dealer register you as an employee/agent under their dealer account/license at the auction house.
This type of arrangement isn't free, though, and most dealers won't want to risk their account status for something that really isn't making them much money.
If you do find a dealer willing to help you, they're either going to want a monthly payment or a portion of your profits.
Renewing Your Dealer License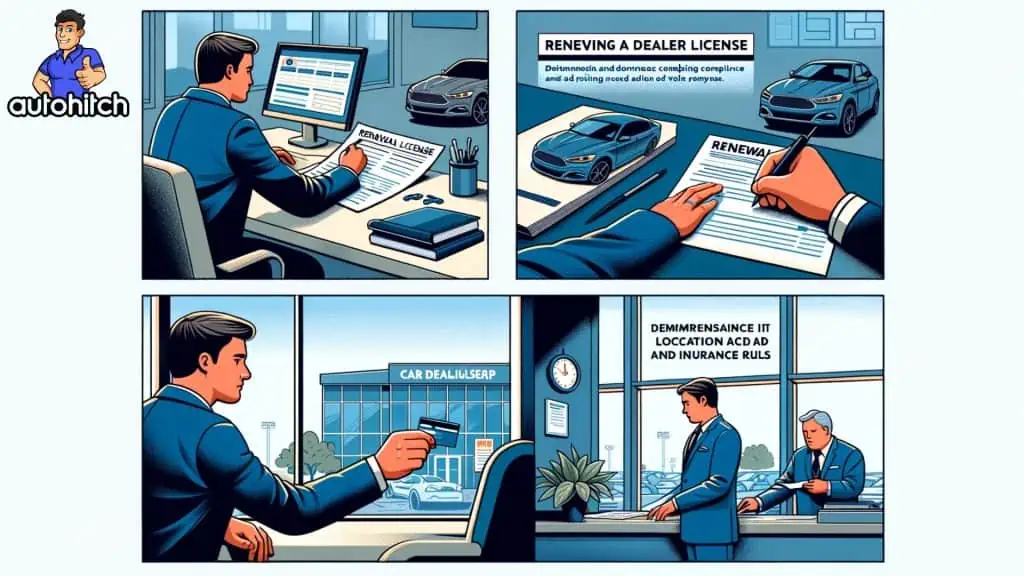 Licenses typically expire annually and must be renewed to stay active. The good news is renewal is simpler than the initial application process.
You'll mainly fill out a renewal form, pay a renewal fee, show you still meet location and insurance rules, and possibly update any business structure changes.
As long as you stay complaint over your first year, the renewal should go smoothly. Just be sure to complete it before the expiration deadline.
Related article you must read: How Do You Get A Title For A Vehicle Purchased At Auction.
Benefits of Having a Dealer License
Going through the licensing process takes dedication, but the payoffs can make it very worthwhile:
Auction Access – The #1 benefit is gaining entry to dealer-only wholesale vehicle auctions with huge inventory and pricing advantages.
Buy/Sell Vehicles Commercially – A license allows you to legally buy and sell an unlimited number of vehicles for profit each year.
Consumer Confidence – Being licensed proves to customers you are a legitimate regulated dealership they can trust.
Dealer Perks – From special auto finance rates to opportunities to acquire off-lease vehicles, dealers get VIP access.
For aspiring dealers, access to the wholesale market is huge. That makes attaining a dealer license well worth the effort for most.
Summary
In summary, working through the steps to get dealer certified takes dedication. But the rewards of wholesale auction access and running a bona fide dealership make getting licensed incredibly worthwhile. Use this guide to start your journey to auction success!