One of the biggest pain points in the automotive industry is how long it takes to buy a car, but one of the biggest reasons the car buying process takes so long is because people simply don't know what to bring when buying a car.
With significant experience selling cars on my own lot, I know precisely which documents are needed to ensure a smooth purchase.
In this comprehensive guide, I'll walk you through the essential documents to bring when purchasing a vehicle – whether that's proof of ID, insurance, payment, trade-in forms, or financing approval.
With this checklist, you'll cruise through signing the dotted line and quickly drive off the lot in your new wheels.
Essential Documents to Bring When Buying a Car
Minimum Essential Documents
| Document | Details |
| --- | --- |
| Form of Identification | Driver's License (Must be valid and current) |
| Proof of Insurance | Existing coverage or new policy |
| Form of Payment | Cash, Check, Financing Options |
Driver's License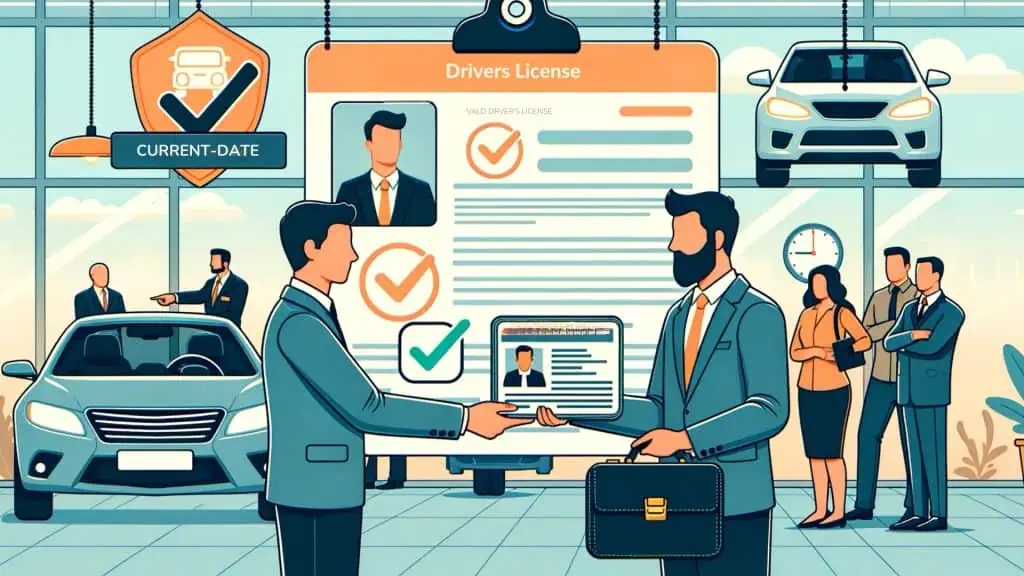 A valid driver's license is required for both test-driving vehicles and purchasing a car from a dealership. Make sure yours is current and up-to-date. Your license shows you are legally able to operate the vehicle and may also serve as proof of your identity and residence when finalizing loan paperwork.
Proof of Car Insurance
Almost every state legally requires drivers to carry auto insurance. The dealership will request you provide current proof of insurance before driving off the lot in your new car.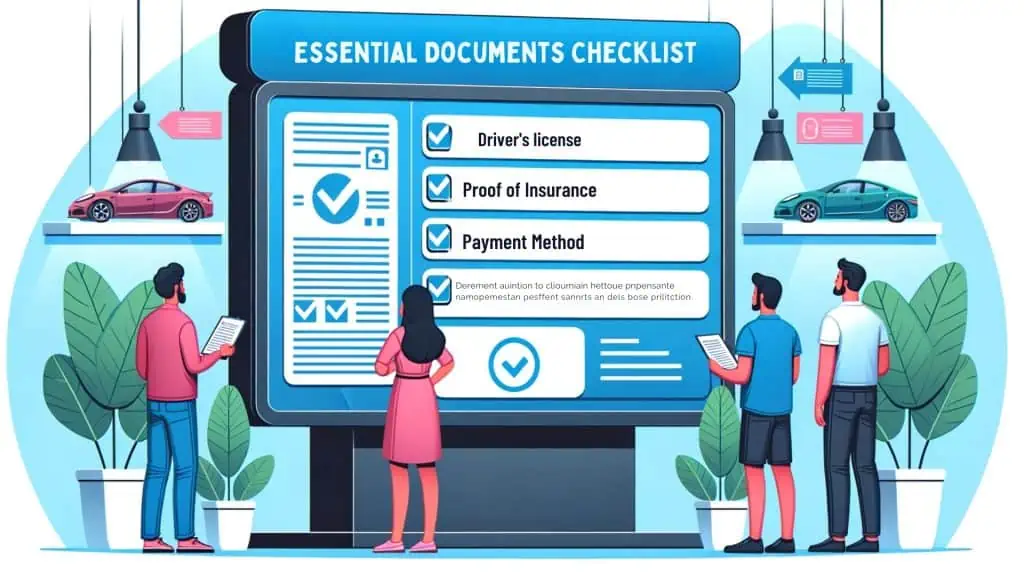 If you already have coverage on another vehicle, this existing policy will likely cover you for a short grace period on a newly purchased car.
But you will need to follow up with your insurance company within a day or two to officially add the new vehicle to your policy. Check in advance on the timeframe with your insurer.
For first-time buyers without existing insurance, you can contact providers, get quotes for the vehicles you're considering, and purchase a policy in advance once you've finalized your purchase.
You'll then provide this new documentation to the dealership.
Payment Method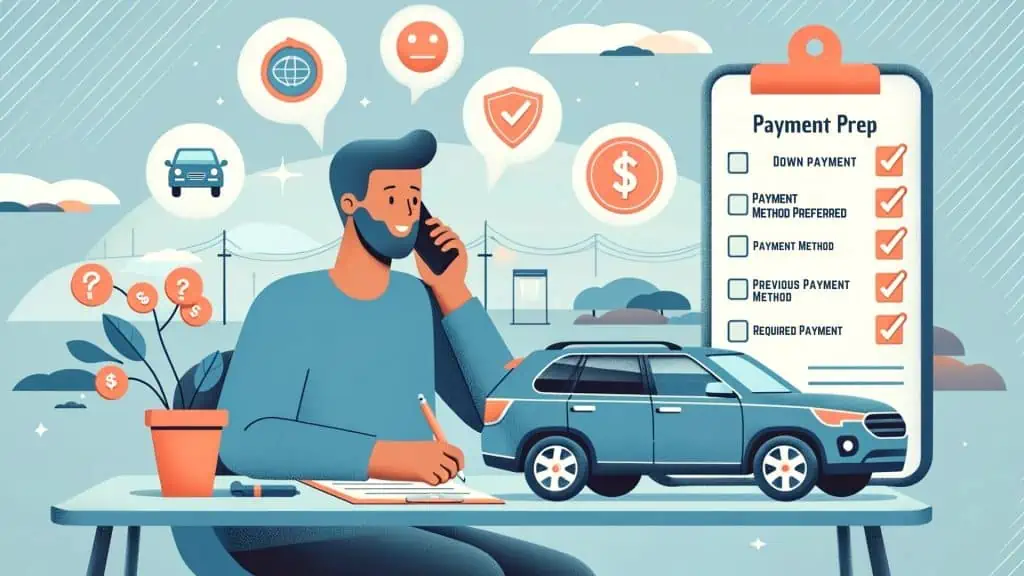 Having your preferred payment (And Down Payment) ready will speed up the final purchasing process.
Most dealerships accept personal checks, cashier's checks, debit/credit cards, and certified bank checks. Determine the dealership's policies on payment types and limits when you contact them ahead of your visit.
You'll typically need to make a down payment at the time of purchase. Even if you're financing the majority of the vehicle cost, a down payment is usually required.
Make sure you have this cash, check, or debit/credit card payment ready when you head to the dealership.
Vehicle Trade-In Paperwork
Additional Documents if Trading In
| Document | Details |
| --- | --- |
| Title | Clean title signed over to dealer |
| Registration | Current registration preferred |
| Loan Info | Account number and lender details |
| Service Records | Maintenance history helps value |
Trading in your old vehicle is a popular way to lower the price of your new car purchase. While trade-ins are quite straightforward, you need to supply the car dealership with paperwork proving you own the trade-in vehicle free of any liens.
Title
The certificate of title proves legal ownership of your trade-in. It must be clean and signed over to the dealership. Request a duplicate from your local DMV if needed.
Registration
Current registration shows your trade-in vehicle is operational. Expired registration may impact the trade-in value.
Loan Info
For any existing auto loans, provide the lender details and account numbers to handle the balance payoff.
Service Records
While optional, providing maintenance and repair records can increase your trade-in value by showing you properly cared for the vehicle.
Financing and Credit Documents
If you need financing to purchase your new car, additional necessary documents are required to verify income, credit standing, and overall financial health:
Documents Needed for Financing
| Document | Details |
| --- | --- |
| Proof of Income | Pay stubs, bank statements |
| Credit Score | Helps set expectations on rates |
| Preapproval Letter | Gives negotiation leverage |
| References | For those with poor credit |
| Utility Bills | Provides proof of residency |
Income Verification
Recent pay stubs or bank account statements prove you have sufficient income to take on a car loan.
Bank Statements
These statements may also be used to verify you have funds available for a down payment.
Credit Score
While dealers pull credit reports themselves, knowing your credit score ahead of time helps set expectations.
Proof of Residency
You will need a utility bill addressed to you so that the lender can prove you live at the address you put on the application.
Preapproval Letter
Getting preapproved with your bank gives you negotiating leverage and a hard credit check is already done.
List of References
Having personal references can help those with poor credit scores show financial responsibility.
Improving Your Credit
If your credit score is very low, wait 6-12 months to improve it before applying for a car loan in order to get better interest rates. Pay down debts, dispute errors, and limit credit inquiries in the meantime.
Qualifying for Car Buying Discounts
Some buyers may be eligible for special discounts that reduce the purchase price of a new car. To qualify, you'll need to provide proof of eligibility:
Discounts and Rebate Proof
| Discount | Proof Needed |
| --- | --- |
| Military | ID card, discharge papers |
| Student | ID card, transcripts |
| Loyalty | Previous lease or registration |
Military Service – Active duty military members and veterans can supply an ID card or discharge papers.
Students – Current student identification or transcripts can qualify you for student discounts and rebates.
Leasing & Ownership – If you currently lease or previously purchased a vehicle from the same manufacturer, you may qualify for loyalty discounts.
The dealership will let you know what documentation they accept for any qualifying discounts or rebates. Check for deals ahead of time and bring needed paperwork.
Getting Financing for Your New Car
You'll often need to secure financing when purchasing a new or used car. There are two main options – going through the dealership or getting preapproved directly through your own bank or credit union.
Dealership Financing
Applying for financing through the dealership showroom is typically faster and more convenient. The dealer has partnerships with lenders and will handle the application paperwork for you on the spot. However, interest rates may be higher than external financing.
External Preapproval
Getting preapproved for an auto loan through your own bank or credit union takes more time upfront. But you can often secure a lower interest rate, especially if you have good credit. This gives you added negotiating leverage at the dealership.
No matter where you get approved, you'll need much of the same documentation listed above to finalize a car loan. Having your ducks in a row makes the financing process quick and headache-free so you can focus on picking out your new wheels.
Out-of-State Car Purchases
Buying a car out-of-state comes with some extra steps:
Research the DMV regulations in that state beforehand – some require inspections or smog checks.
Determine the sales tax rules – you may owe taxes in your home state and the purchase state.
For financing, check if your bank does out-of-state loans and any restrictions.
When registering the car, you'll need to transfer title from the previous state of ownership.
Make sure your car insurance policy covers vehicles registered in another state.
Call the state DMV office with any specific questions on transferring ownership. Planning ahead makes the process seamless.
Final Checklist for What to Bring When Buying a Car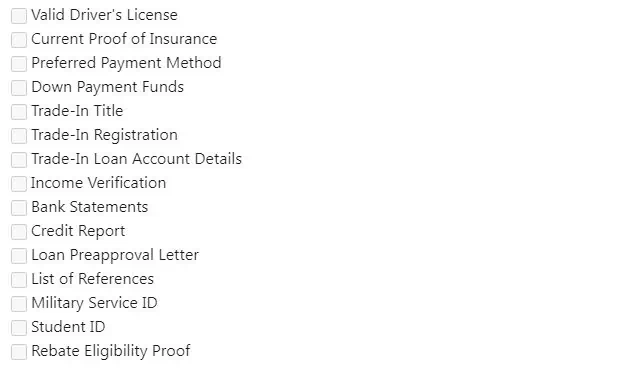 My Final Thoughts
With this checklist, you can feel completely prepared when heading to the dealership. Getting all your necessary paperwork together in advance will ensure you cruise through the buying process and drive off the lot excited in your new car. Use this guide to know exactly what to bring when buying a car!