Are you looking for a quality used car at an affordable price? While used vehicles provide great value, you must be vigilant of scammers trying to take advantage of buyers. Arm yourself with knowledge of the most prevalent used car scams to protect your money.
Key Things to Know About Used Car Scams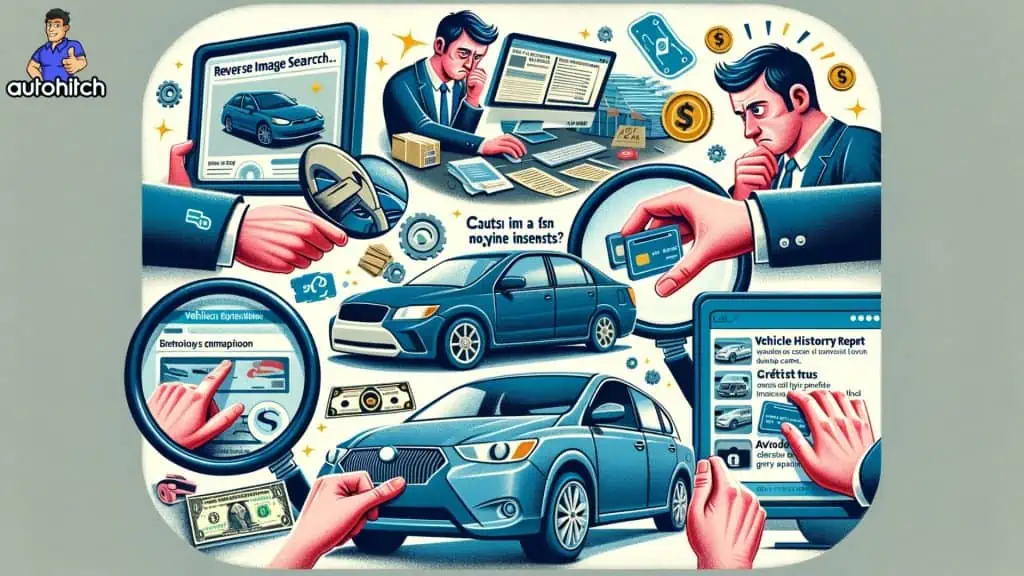 Used car scams routinely cost buyers billions annually. Stay alert when shopping to avoid them.
Online sales bring new risks. Do a reverse image search on photos and verify sellers on sites like Facebook Marketplace and eBay Motors.
Trust your instincts. If something seems too good to be true, it likely is. Walk away.
Get vehicle history reports, inspections, and test drives before purchasing. Look for title, mileage, and damage discrepancies.
Only make payments with traceable methods like credit cards, not risky options like gift cards or wire transfers.
Table of Contents
The Rising Threat of Used Car Scams – By the Numbers
Used car scams are a growing menace that cost Americans billions of dollars each year. Understanding the scope of these fraudulent activities can help raise awareness of this threat.
$30+ billion – Estimated global losses to car buying and selling scams each year
75% – Reported increase in online used car scams since 2021 as more sales move online
450,000+ – Number of vehicles sold annually with odometer rollbacks, according to the NHTSA
1 in 325 – Number of used cars estimated to have illegally washed titles hiding damage or accident history
$4,000 – Average loss per victim of odometer fraud
7% – Increase in odometer fraud cases in 2022 over the previous year
$54 million – Documented losses to used car scams over a 4-year period, per FBI
You might also want to read our article on Car Warranty Scams!
12 Most Common Used Car Buying Scams
1. Curbstoning
Dishonest dealers posing as private sellers conduct "curbstoning" scams in parking lots or on the street to sell damaged cars while avoiding regulations.
Avoid it by: Researching seller names online, insisting on titles before purchase, getting thorough inspections.
2. Title Washing
Scammers alter titles (Title Washing) to hide salvage branding, flood damage, accidents, and other problems. The car appears to have a "clean" title.
Avoid it by: Running vehicle history reports to uncover title discrepancies.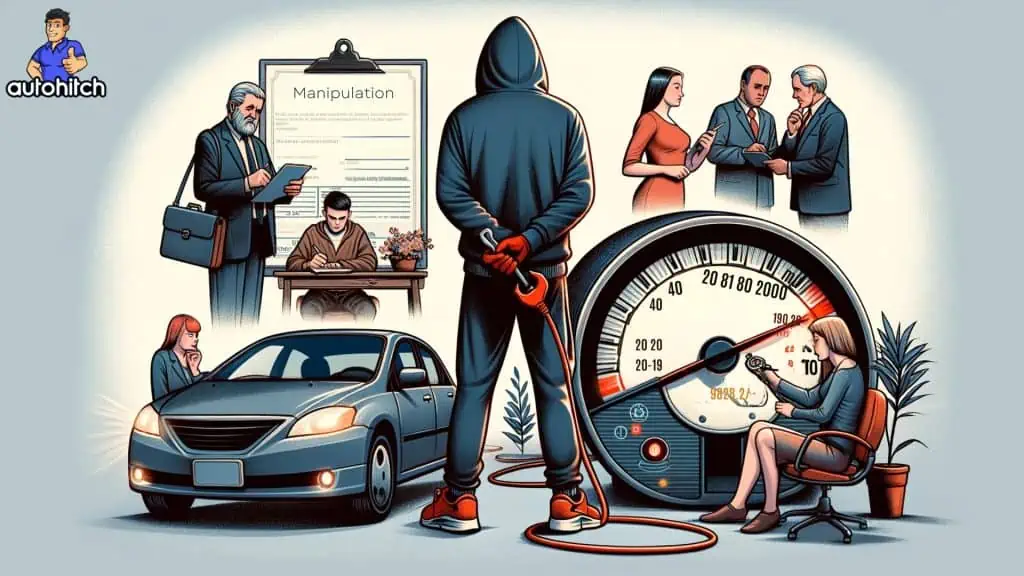 3. Odometer Rollbacks
Deceitful sellers alter odometers to show lower mileage and increase resale value. NHTSA estimates 450,000 vehicles are sold annually with false odometer readings.
Avoid it by: Comparing mileage on odometer with title and maintenance records. Check reports.
4. VIN Cloning
Scammers steal VINs from legally registered vehicles and use them on stolen or salvaged cars to appear legitimate.
Avoid it by: Inspecting VINs on the dashboard and door. Check reports to verify VIN and title match.
5. Online Sales Scams
Fake online ads with stolen or false photos depict cars the scammer doesn't actually own. They take payments without delivering vehicles.
Avoid it by: Never sending money before verifying the seller's identity and seeing the car in-person.
Another article to read: Ebay Car Scams.
6. Must Sell Now Scam
Ads offer steep discounts due to urgent seller circumstances like military deployment or death in family. Goal is pressuring quick purchases before inspection.
Avoid it by: Taking time to thoroughly vet car and seller before purchase, regardless of claimed urgency.
7. Third-Party Scam
Scammers falsify relationships with reputable third parties like eBay Motors to appear legitimate and gain trust.
Avoid it by: Independently looking up contact info for any third parties mentioned rather than relying on seller.
8. Gift Card/Wire Transfer Scams
Shady sellers insist on untraceable gift card or wire transfer payments before vehicle delivery. This allows them to take the money while providing nothing in return.
Avoid it by: Only using traceable payment methods tied to your identity. Never agree to alternative payments like gift cards or bank wires.
9. Fake Escrow Services
Scammers trick victims into depositing money in fake escrow accounts that actually route directly to the scammer rather than holding the funds securely.
Avoid it by: Only using known, legitimate escrow services that you look up and verify independently.
10. Purchase Protection Plan Scams
Deceitful sellers pretend to offer purchase protection plans from reputable companies to create a false sense of security for buyers.
Avoid it by: Independently verifying any mentioned protection plans before relying on them.
| Financial Scams | Scam Characteristics | How to Protect Yourself |
| --- | --- | --- |
| Deposit Fraud | Requests for upfront deposits without verification. | Never pay a deposit without seeing the car and verifying seller. |
| Wire Transfer/Gift Card | Immediate, untraceable payment requested. | Use traceable payments, confirm ownership first. |
| Financing Scams | Offers of loans with non-standard terms. | Obtain financing through reputable, known sources. |
11. Deposit Fraud
Scammers list cars below market value to generate interest, then keep buyer deposits without ever providing the agreed upon vehicle.
Avoid it by: Never submitting any payment until after you've met the seller, seen the car, or verified information.
12. Financing Scams
Scammers pose as private sellers and offer financing with no intention of completing the sale. They disappear after receiving initial payments from victims.
Avoid it by: Obtaining financing only through known, legitimate sources rather than depending on seller offers.
Where You Are Likely To Encounter These Car Scams In The Car Buying Process:
| Interaction Stage | Scam Types | Key Indicators |
| --- | --- | --- |
| Physical Location | Curbstoning | Car sold in parking lots, no dealer license. |
| | Lowballing | Unusually low offers, pressure tactics. |
| Online Platforms | Fake Ads, Must Sell Now Scam | Too good to be true deals, pressure for quick payment. |
| | Third-Party Scam | Falsified affiliations with known entities. |
| Transaction Process | Wire Transfer, Gift Card, Escrow Scams | Requests for untraceable payments. |
| Post-Transaction | Purchase Protection Plan Scam | Fake assurances post-payment. |
How to Avoid Car-Buying Scams
Used car scams can seem incredibly convincing, but there are steps you can take to avoid getting ripped off:
Thoroughly research the seller – Search online for reviews, complaints, and background information on the seller, dealer, or private party. Verify addresses and business licenses.
Get a vehicle history report – Order a report from Carfax, AutoCheck, etc. Yourself to uncover title washing, odometer rollbacks, accident history, and more.
Have a mechanic inspect the car – Pay a trusted mechanic $100-$200 to do a thorough pre-purchase inspection and identify any hidden mechanical issues.
Confirm VINs – Check that the VIN on the dashboard matches title documents and plates to uncover VIN cloning.
Take a test drive – Drive the car to check for performance issues the seller may be hiding. Bring someone you trust.
Meet at the seller's bank – When paying with a cashier's check, meet at their bank so they must provide ID and you get documentation.
Avoid wire transfers – Never pay with methods like wire transfers, cash apps, gift cards. Only use credit cards and cashier's checks tied to your identity.
Walk away if unsure – If anything seems suspicious, unclear, too good to be true – trust your gut and walk away. There will be other cars.
Only buy from reputable sources – Purchase from dealerships and sellers with solid reputations. Avoid deals that seem too good to be true.
What To Do if You Encounter a Scam
If you realize you've been defrauded or encounter any red flags:
File a report with the police.
Report it to organizations like the National Consumer League Fraud Center.
Notify your bank if you shared any account information.
Contact your state attorney general's office for guidance.
Stay vigilant and protect yourself, and you can buy a used vehicle with confidence. Follow the tips outlined here, and you'll be able to spot most scams from a mile away.
Sources: