Turo, the popular peer-to-peer car rental platform, offers convenient access to vehicles for travelers. However, Turo does have age requirements for renters. So, how old do you need to be to rent a car on Turo?
The short answer is 18 years old. Turo's minimum rental age is 18 across the U.S. However, there are additional age-based rules and restrictions to be aware of.
Relevant Article: How To Avoid The Turo Young Driver Fee.
Key Takeaways
| Takeaway | Summary |
| --- | --- |
| Minimum Rental Age | 18 years old |
| Age Restrictions | Limitations for under 25 renters |
| Age-Based Fees | $50/day for 18-20, $30/day for 21-24 |
| Car Class Limits | Age 25+ for Deluxe, 30+ for Super Deluxe |
| Reason for Rules | Insurance risk with young drivers |
| Fee Avoidance Tips | Alternate services, deal hunting |
| Prep Tips for Young Renters | Research protection plans, avoid luxury cars |
Turo's Age Requirements and Policies
While 18 is Turo's baseline rental age, drivers under 25 face limitations:
18-20: Can only book cars valued under $20,000. Must pay $50/day young driver fee.
21-24: Can book cars of any value. Must pay $30/day young driver fee.
25+: No restrictions or fees based on age.
Turo also has age minimums for booking certain car classes:
25+: Required for Deluxe vehicles
30+: Required for Super Deluxe and specialty vehicles
These apply based on your age when booking, not when the trip takes place. Turo does not make exceptions for upcoming birthdays.
Highly Relevant Article You Should Read Before Renting: What is turo and what are people saying about it?
Why the Age Restrictions Exist
Insurance is the main reason. Industry data shows drivers under 25, especially teens, have higher accident rates. Renting to young drivers increases the risk of claims and repairs for owners.
The age rules help offset this risk. The fees go towards Turo's insurance protections for owners. Without them, many owners would not rent to younger drivers at all.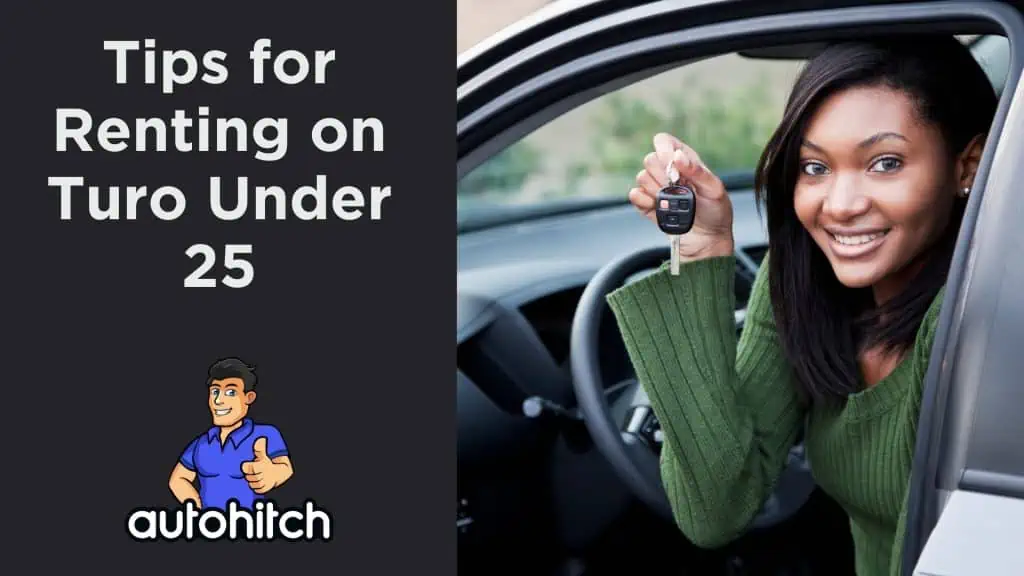 Tips for Renting on Turo Under 25
If you're under Turo's age restrictions, a few tips can ensure a smooth rental:
Research protection plans: You may have limited options. Understand coverage before booking.
Avoid high-end cars: Stick to affordable, modest vehicles within your age policy limits.
Review cancellation policies: Understand any fees if plans change last minute.
Communicate with owner: Reassure them of your responsible nature as a young renter.
Return car on time: Avoid late fees by coordinating carefully with the owner.
Follow rental rules: Damage or violations can bring added charges.
Alternatives to Avoid Young Driver Fees
Some options help avoid Turo's underage fees:
Silvercar: Rent Audis from age 22 with minimal age fees.
Getaround: Has tiered underage fees by exact age instead of brackets.
Skiptown: Local P2P rental with no set age requirements.
Rental agency deals: Check for fee waivers through AAA, USAA, employers, or schools.
Rideshares: Use Uber or Lyft instead of renting a car.
The Bottom Line on Renting Through Turo Under 25
While Turo offers an accessible car rental option for those as young as 18, drivers under 25 do face restrictions, fees, and requirements beyond their control.
The key is going in informed. Understand Turo's age policies, limitations, insurance implications, and full rental costs ahead of time. With proper preparation, young renters can still enjoy the freedom of the open road through Turo.
Frequently Asked Questions
What is Turo's minimum rental age?
The minimum age to rent a car on Turo is 18 years old.
Can I rent a luxury car on Turo if I'm under 25?
Likely not. Turo restricts booking high-end vehicles until age 25 for Deluxe cars and age 30 for Super Deluxe/specialty cars.
Do I have to pay young driver fees for the entire rental if I turn 25 during the trip?
Yes. Turo bases fees on your age at booking time. Turning 25 mid-rental does not change or waive the fees.
Can I get the young driver fee waived if I have excellent insurance and driving record?
No. Turo does not make exceptions or waive fees based on insurance, driving history, club memberships, etc. The fees are mandatory for under 25.
If I'm 18, can someone else book the car for me as the main renter?
No. Turo requires all drivers to be individually approved and meet the age requirements. There is no way around restrictions by booking through someone else.
Resources and References: