Turo is a peer-to-peer car-sharing platform that allows you to rent cars directly from local owners instead of rental car companies.
See Also: What is Turo?
I recently used Turo for the first time on a trip and wanted to share my experience to help others decide if Turo is a legit and reliable option for renting a car.
Other Relevant Articles To Read: How old do you have to be to rent on TURO?
Turo Review: Key Takeaways
Turo connects local car owners with people looking to rent vehicles in their area, similar to Airbnb for cars.
The Turo app and website make it easy to search for and book vehicles, communicate with owners, and manage your rental.
Turo offers lower rental rates than traditional companies, but watch for extra fees like protection plans.
You deal directly with the car owner for pickup/dropoff rather than a rental counter.
Turo provides liability insurance but inspect vehicles thoroughly and take photos to avoid disputes.
Overall, my Turo experience renting a car was smooth, affordable, and convenient compared to traditional rentals.
Comparing Turo and Traditional Car Rental
| Feature | Turo | Traditional Car Rental Company |
| --- | --- | --- |
| Booking Process | Through Turo app/website | Rental counter or website |
| Vehicle Selection | Various makes/models listed by owners | Limited to company's fleet |
| Pickup/Dropoff | Meet owner at agreed location | Rental office/lot |
| Pricing | Set by owner, averages 30% less | Standardized rates |
| Insurance | Liability included, optional damage coverage | Basic policies included |
| Cancellation Policy | Set by owner, typically flexible | Fees and restrictions |
| Customer Service | Direct contact with owner | Call center and counter staff |
| Locations | 4,500 cities but availability varies | Widespread locations |
| Rental Agreement | Handle through Turo app | Long forms to sign |
| Payment | Via Turo app, some owners take cash | Counter or website |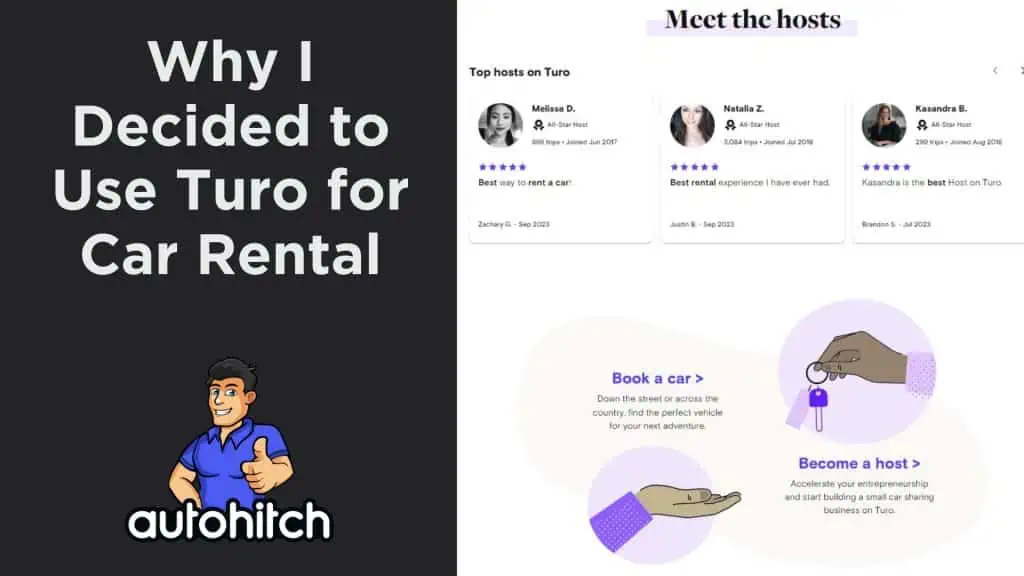 Why I Decided to Use Turo for Car Rental
I needed to rent a car for an upcoming trip this past year. After checking prices with the major rental companies, I was shocked (like many of you) at how expensive rates were – $200+ per day in some cases!
A friend suggested I look into Turo since she had rented from them before, and given my experience with cars I had heard of TURO but simply didn't trust it.
Don't get me wrong, I love the idea of supporting individuals instead of corporations.
The convenience of delivery and airport pickup also appealed to me because most of my travel is via flying.
And most importantly, Turo's daily rates were about half that of traditional companies!
Despite the negatives, which were mainly in my head, I decided against traditional rental car options and decided to try something new.
How Turo Car Rental Works
Turo works similarly to Airbnb where there is a marketplace of vehicles that owners list for rent on the Turo website and app.
As a renter, you can search by location and dates to find available cars. Filter by price, vehicle type, amenities, and other features to narrow down options (Your typical search experience on any site).
When you find one you like, you select your rental dates and reserve instantly or send a request. Approved requests are confirmed within 8 hours.
Turo handles payments and insurance coverage. Renters browse vehicles, reserve, and manage rentals right through the Turo app.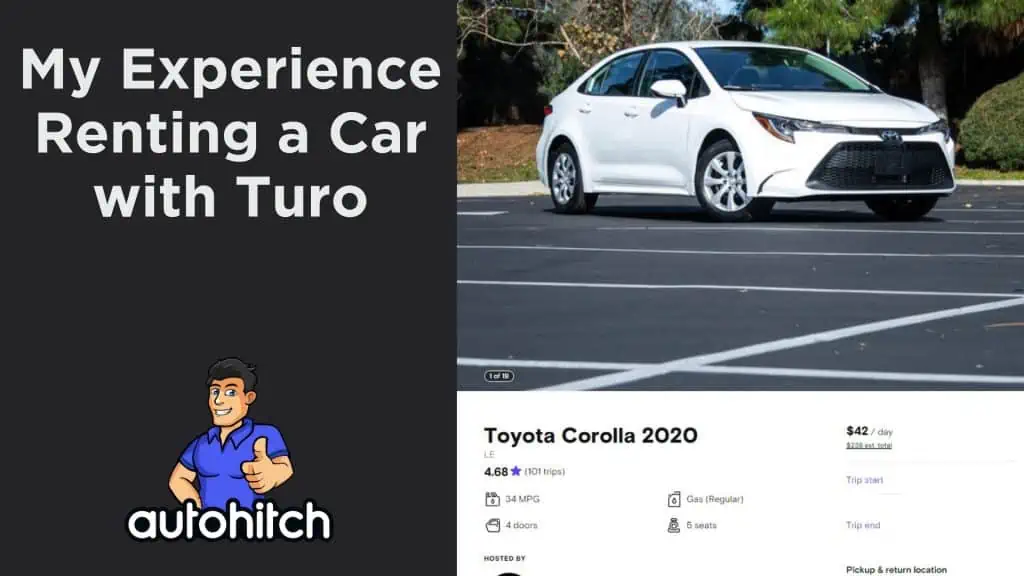 My Experience Renting a Car with Turo
For my first Turo rental, I got a 2020 Toyota Corolla in Los Angeles for a 5-day trip. Here's an overview of my experience:
Booking: I filtered for economy vehicles under $50/day and found lots of options. The Corolla I chose had great reviews and unlimited mileage for just $42/day – way cheaper than major companies. Booking through the app was quick and easy.
Pickup: The owner met me curbside at LAX airport arrival. She reviewed the car's features and we inspected for any prior damage. I took photos to document the car's condition like Turo advises. The handoff took only 10 minutes and I was on my way.
Rental Period: The Corolla was roomy and clean, perfect for getting around a big city like LA. I had no issues with the car itself during my trip but when I needed help, the owner was very responsive when I messaged her through the app.
Dropoff: I refueled and cleaned the car before returning it to the owner's home and taking a cab back to the airport. We checked the gas level and mileage to match my documentation. Just like pickup, returning the car was fast and smooth.
Overall: Just as many advertise, Renting through Turo was simple, affordable, and reliable. The owner was friendly and accommodating and I did save a lot versus renting at the airport counter. All in all, I'm definitely planning to use Turo again for future trips!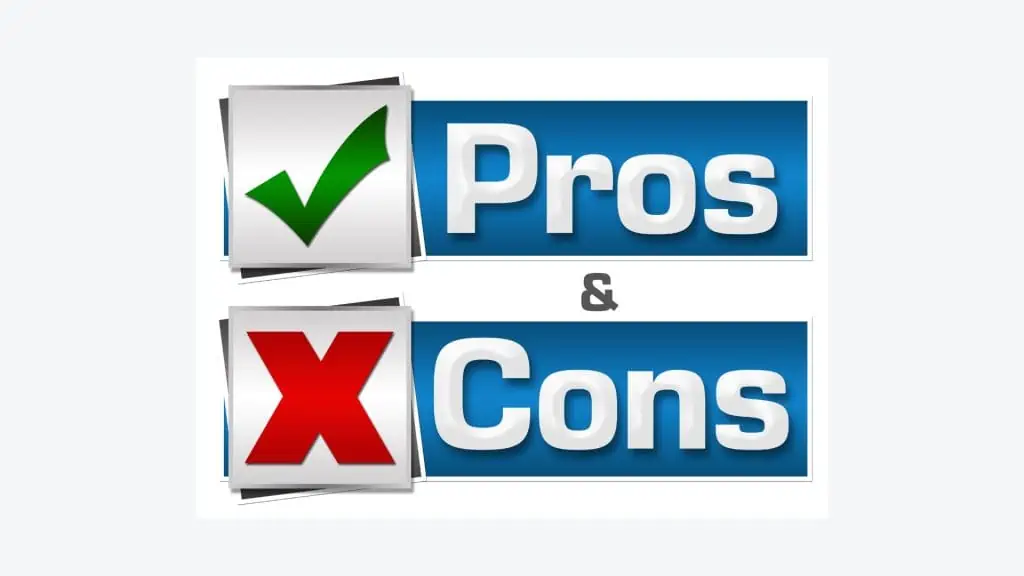 Pros of Renting with Turo
Based on using Turo myself and researching other renters' experiences, here are the main benefits:
Large selection of vehicles – Turo offers way more options than traditional companies, from regular cars to luxury vehicles. You can find specific makes/models to rent.
Convenience – No rental counter needed. Many owners offer delivery right to you. Airport pickup is easy in my experience.
Lower rates – Average savings of 30% compared to traditional companies since there's no corporate overhead.
Personal service – You deal directly with a local owner instead of a nameless company. Most are very responsive and accommodating.
Payment flexibility – Turo offers options like pay as you go and monthly installment plans. Some owners may accept cash.
Support – Turo's customer support team is available 24/7 by phone if any issues come up.
For me, the convenience, service, and affordability were the best features that made Turo a better overall rental car experience than going the traditional route.
Potential Downsides to Consider
However, Turo isn't perfect. There are some risks to weigh when considering using Turo:
Inconsistent experience – Each owner is different in terms of vehicles, rules, and service. It's not as standardized as rental companies.
Extra Fees – Make sure to factor in Turo's booking fees, protection plans, young driver fees if applicable, and owner charges.
Limited locations – Turo isn't available in some smaller airports and cities yet. Inventory varies.
Pickup/dropoff logistics – Meeting the owner takes more coordination vs just going to a rental counter.
Damage liability – Turo's insurance protects owners. As the renter, you're responsible for damages so inspecting vehicles thoroughly is important.
The area that worried me most was the potential for disputes over damages and liability. However, I took extensive photos at pickup and dropoff to protect myself. Thankfully I had no issues.
Turo Cleaning Fee Explained
Another potential downside ofThe table below breaks down key details about Turo's cleaning fee:
| What is the cleaning fee? | Mandatory set fee Turo charges per trip to cover the host's cleaning costs |
| --- | --- |
| Who pays it? | Guests – Turo collects the fee when booking |
| Who receives it? | Hosts – Issued as part of your trip earnings |
| How much is it? | $0 – $150 depending on vehicle type |
| What's it for? | To compensate hosts for supplies, time, effort spent cleaning |
Turo's Cleaning Requirements
Turo requires hosts to clean vehicles after every rental:
✓ Vacuum interior
✓ Wipe down surfaces
✓ Clean door jambs
✓ Sanitize seats and steering wheels
✓ Remove waste and items
✓ Replenish fluids and amenities
Tips For Streamlining Cleaning
To manage frequent Turo cleaning:
🚗 Maintain a dedicated cleaning kit
🚗 Block 1-2 hours between rentals
🚗 Take before/after photos of vehicles
🚗 Hire cleaners if overwhelmed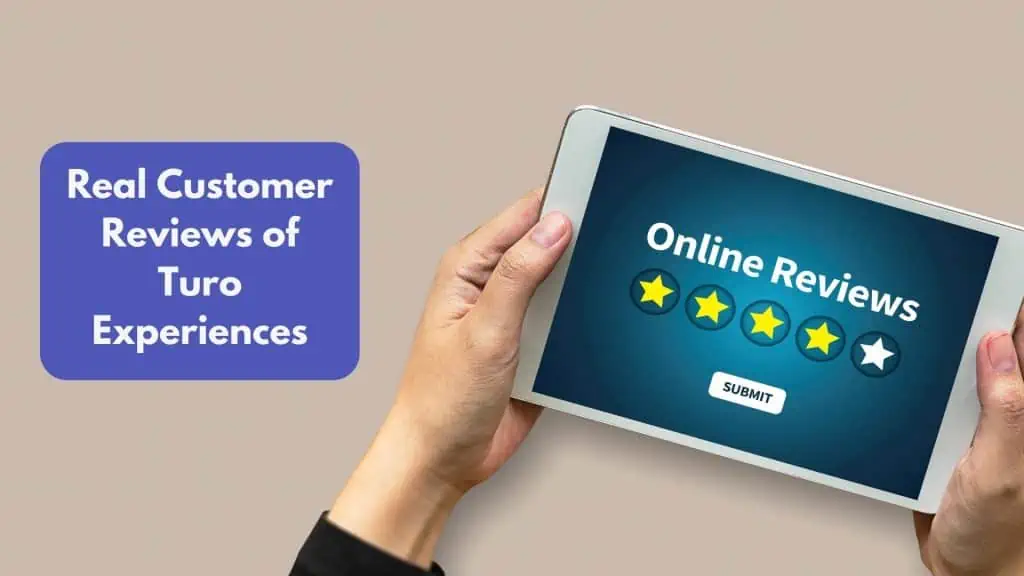 Real Customer Reviews of Turo Experiences
To get an unbiased view, here are some examples of actual customer reviews from Turo users:
Positive Turo Reviews
"Turo is absolutely brilliant, and I will never rent a car the old fashioned way again! How they have made this function I have no idea, but it's excellent. You have a large choice of great cars, you are fully insured, and the app allows you to photographically record any scuff and marks or damages on the vehicle when you receive it, so every thing is documented beginning to end." – Jayne M., New York, NY
"I love Turo. I've always been a city girl so I haven't owned a car in ages. However, sometimes you need one. Turo is perfect for this! I found out about it through a Google search while I was trying to find an affordable rental car. All of the jig companies were just so expensive and had a LOT of paperwork. Turo is easy." – Camille B., Miami, FL
Negative Turo Reviews
"HORRIBLE EXPERIENCE! I was charged more than $5000 for a two day trip… DO NOT USE THIS COMPANY EVER! I filed a claim for the excess distance charges and Turo denied it even with proof." – Stacey M., Douglasville, GA
"Turo is AWFUL if you are an owner and the driver damages your car. Use your own insurance. Turo "claims" is a nightmare. They will abandoned your totaled vehicle and stick you with the bill after months of getting nowhere. Done. Never use Turo. Awful people." – Edward D., Mechanicsville, VA
Tips for a Smooth First Turo Rental
If you're considering Turo for the first time, here are my top tips for making it a smooth process:
Read owner reviews – Check for consistently positive ratings and comments before booking. Reviews are huge on peer-to-peer platforms.
Reserve early – Give yourself plenty of time in case the owner needs to decline your request for any reason. At least 2-3 weeks ahead.
Ask questions – Message the owner with any questions before Renting a car. Confirm pickup/dropoff logistics, airport fees, or other rules.
Take photos – Document the car's interior and exterior condition thoroughly at pickup and dropoff to avoid any disputes later.
Get support number – Save Turo's 24/7 support number in your phone in case you need to call during the rental.
Decline extras – It's typically safe to decline extra insurance if you have a card with rental coverage. But check with your provider to be sure.
Following these tips will help ensure your first Turo experience goes smoothly from reservation to returning your rental. Don't be afraid to reach out to owners and Turo support – they want your rental to go well.
Is Turo Ultimately Legit and Reliable?
In my experience renting with Turo, I would absolutely say they are a legit and reliable car rental platform. The savings, convenience, and availability of specific vehicle types make Turo a great alternative to traditional rental companies.
However, Turo may not be ideal for everyone. Travelers who want maximum standardization and predictability are better off with traditional companies. If you tend to wait until the last minute, Turo also requires more advance planning to connect with owners.
For those comfortable using peer-to-peer rental platforms, Turo delivers an affordable and convenient car rental experience. As with any marketplace, you have to do due diligence reading reviews and verifying details with the owner.
With reasonable precautions, Turo is a modern, smart way to rent cars that I plan to take advantage of for future trips. Take the leap and give Turo a try yourself the next time you need to rent a vehicle!