When is the Best Time to Buy a Car? The Ultimate Way to Saving Money
From my experience and extensive research, the best time to purchase a new or used car is often at the end of the year, especially in December.
This period sees some of the biggest discounts, incentives, and overall lowest prices as dealerships push to meet annual sales quotas and clear out old inventory before the new year.
Best Times of the Year To Buy a Car (Table)
| Best Time to Buy | Description | Potential Savings |
| --- | --- | --- |
| End of December | Dealerships aim to meet sales quotas and clear old inventory | High |
| End of the Month/Quarter | Dealers work to meet monthly/quarterly sales targets | Medium to High |
| Holiday Weekends (e.g., Memorial Day) | Sales events and promotions are common | High |
| End of Model Year (Fall) | Dealers offer discounts to make room for new models | Medium to High |
| Weekdays, especially Monday/Tuesday | Showrooms are less busy; better customer service | Medium |
But there are other opportunities throughout the year to score an excellent deal if you know when to shop.
In this article, I will outline the optimal times, right down to the month, holiday, and even day of the week, to find the most savings.
Follow these best practices, do your research, and have financing ready, and you can potentially save thousands off sticker price on your next car.
Table of Contents
Key Takeaways:
Shop late in the year, especially in December, when dealerships offer the steepest year-end discounts and incentives.
Look for deals at the end of each month/quarter as dealers work to meet quotas.
Certain holidays like Memorial Day, July 4th, and Labor Day promote sales events and specials.
Buy late in the model year, usually fall, when old models are on discount as new ones arrive.
Opt for weekdays (Monday/Tuesday) when dealers are less busy and attentive to buyers.
Have financing pre-approved before negotiating for the lowest rates.
Seasonal Car Sales Bar Chart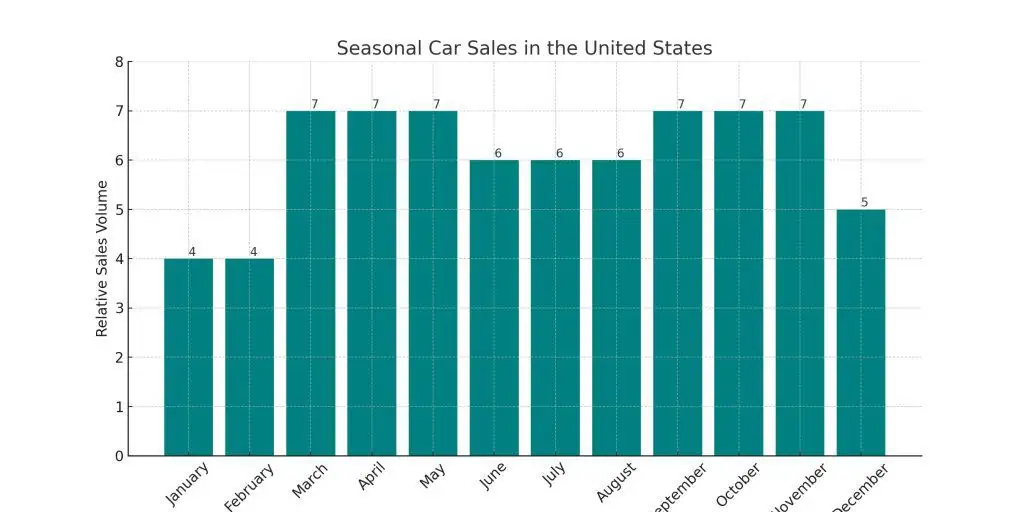 Sources:
When Dealers and Automakers Offer the Best Car Deals
New car prices fluctuate throughout the year as supply and demand shifts. By timing your purchase right, you can take advantage of periods where pricing reach annual lows.
End of the Year Clearance Sales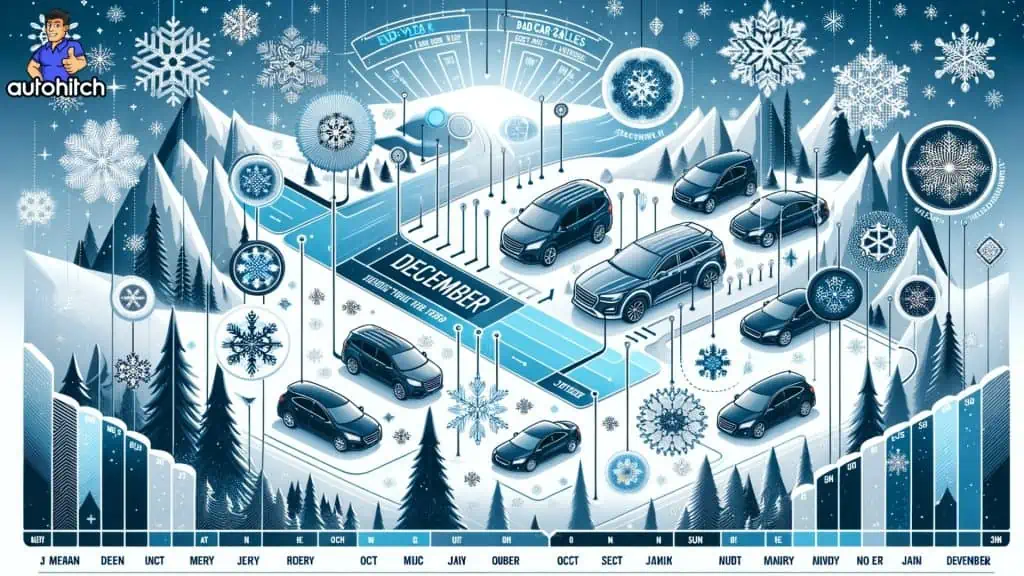 Without a doubt, December is the best single month for new car deals with discounts averaging 6-8% off MSRP, according to Edmunds data.
It culminates the annual, quarterly, and monthly sales goals dealerships work to hit. With quotas on the line, sales teams heavily discount outgoing models and offer increased incentives to move inventory off the lot before the new year.
October through January sees high sell-off activity as well. However, the most leverage exists at year's end when the selection of the current model year is limited.
So, if you're flexible, wait until the last few weeks of December for optimum savings.
Holiday Weekends
Major summer and winter holidays equal great car deals. Events like Memorial Day, 4th of July, Labor Day, and President's Day are used by automakers to entice buyers with promotions when showroom traffic increases.
According to iSeeCars data, these weekends see up to 30% more used car discounts compared to average days. New cars are discounted as well. Holiday deals used to be short-term, but now often run most of the month.
Model Year Changeover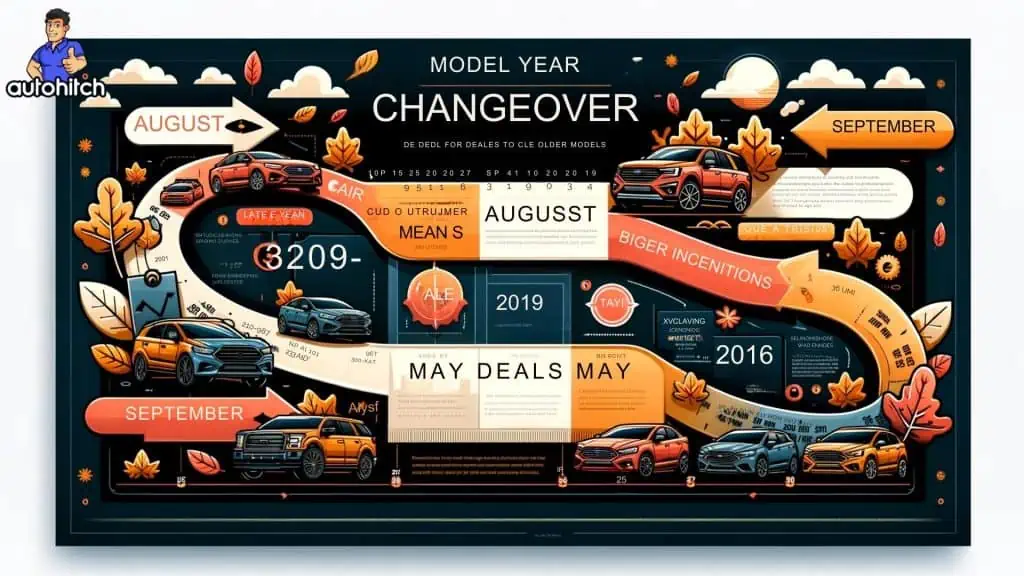 Another opportune time is late summer through fall, when dealers are anxious to clear older models before the new model year arrives. This changeover period sees bigger incentives and discounts on the outgoing generation. August/September are peak transition months for most brands, but deals appear as early as May for some brands.
If you're fine skipping the latest model, target outgoing vehicles in summer through December. Just ensure it's not being redesigned or discontinued for reasons besides normal progression.
Monthly and Quarterly Quotas
Dealers and sales teams have monthly and quarterly quotas they work hard to achieve. The end of these periods brings sales as personnel push to hit goals. The last week of a month or quarter has an urgency that you can use to negotiate the best price.
Late December offers a quadfecta when yearly, quarterly, and monthly quotas all converge along with holiday events. But carefully timed purchases at month/quarter end can save any time of year. Get a feel for urgency as you negotiate.
What Day of the Week Are Deals Most Likely?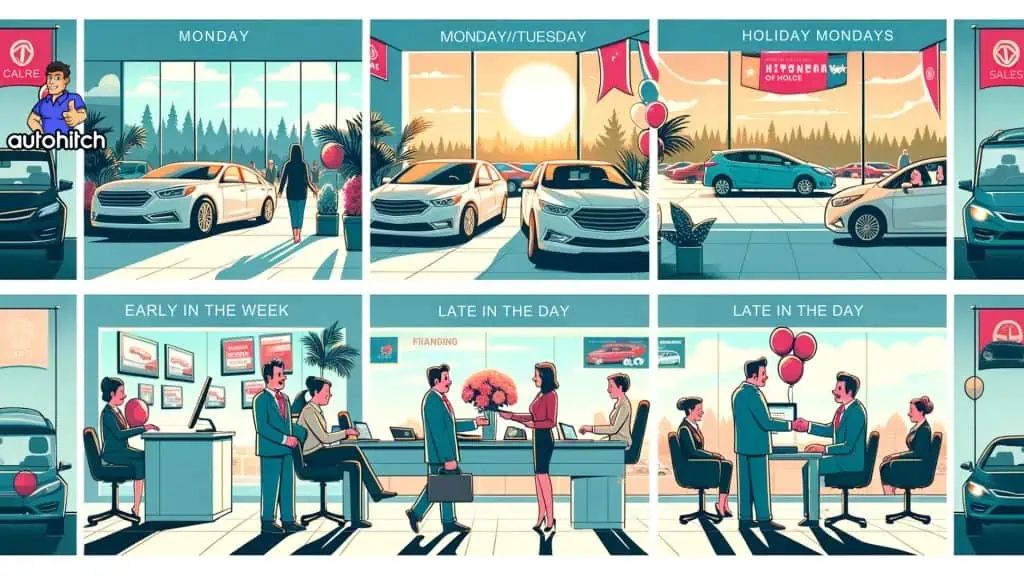 Weekends are busy times at dealerships, so weekdays can be better for purchasing a car and getting the lowest price. Here are the best days:
Monday/Tuesday – Less foot traffic allows more time negotiating with sales staff and test driving vehicles at a relaxed pace. Financing offices tend to be quicker too.
Holiday Mondays – High sales expectation means deals abound on these heavily promoted three-day weekends. Research and test drive in advance if possible.
Late in the Day – Asking for a better offer as the day or month winds down can appeal to a salesperson's urgency to finish strong.
Always be prepared with competitive pricing information so you can instantly recognize a good deal. Patience and flexible timing during the week can help you clinch the perfect offer.
Strategize Around These Key Car Buying Periods
Below are key new and used car buying times and strategies to maximize savings:
| Timeframe | Pricing Strategy | Preparation Tips |
| --- | --- | --- |
| End of Year | Sticker prices lowest as dealers discount models and offer incentives on outgoing year vehicles. Wait for best selection and urgency in late December. | Obtain pre-approved financing for strongest bargaining position. |
| Tax Refund Season | People trade in for new cars using refunds. Used supply up, prices may dip. January through April. | Get current car appraised for higher trade-in value. |
| End of Model Year | Outgoing models discounted as new model year arrives, usually fall. Ask about new model changes and pricing. | Decide if you're OK skipping modest upgrades in new model year. |
| Holiday Weekends | Memorial Day, July 4th, Labor Day, etc. see deals and incentives to increase showroom traffic. | Test drive ahead of time. Read the fine print on holiday deals. |
| Redesigns/Discontinued | Automakers incentivize outgoing models about to be redesigned or replaced. Ask salespeople for info. | Research reasons for discontinuation. Avoid safety issues. |
When Are the Worst Times To Buy a Car?
While there are prime times to get excellent deals, there are also periods you'll want to avoid if possible. To prevent overpaying, steer clear of car shopping during these ill-advised times:
| Worst Time to Buy a Car | Why |
| --- | --- |
| Early in the model year | Busier, so less salesperson time. |
| Right after a hot new model launches | Hype limits discounts on new models. |
| Beginning of the month | Sales quotas reset so less motivation for deals. |
| When you desperately need a car | Reduced preparation and negotiating power. |
| January – April | Data shows discounts typically lower. |
| Weekends | Sales quotas reset, so less motivation for deals. |
| Very start or end of day | Staff not fully available to assist. |
How to Stack Savings With Preparation and Negotiation
On top of perfect timing, you can multiply savings by negotiating with knowledge and authority:
Secure Pre-Approved Financing – Get loan pre-approval from your bank or credit union before visiting dealers. Then compare to dealer financing to ensure the lowest rates.
Understand Dealer Costs – Research dealer invoice price and holdback. Use it to counter unreasonable sticker prices that squeeze profit.
Price Competitively – Quote lower prices found at other dealerships and negotiate up slowly vs. starting at sticker. Make fair offers.
Master the Walk-Away – Being ready to walk out gives you power. But use sparingly/carefully to preserve rapport and the deal.
Review Financing Carefully – Claims you "must" use dealer financing are false. Don't get pressured into unnecessary extras either.
Entering a negotiation equipped with pricing intelligence and an exit strategy will enable you to strike the perfect deal. Avoid falling in love with a particular vehicle so you can make objective decisions.
Key Questions to Ask Yourself Before Buying
Along with timing your purchase right, you need to perform self-reflection to ensure you get the right car at the best price:
Will you pay cash or require a car loan? What terms and rate can you qualify for?
What monthly payment fits your budget if financing? Avoid over-extending yourself.
How will this new vehicle affect your insurance rates? Get quotes beforehand.
Is the car still under factory warranty? Understand the coverage and duration.
Does this model have a track record of reliability issues? Research thoroughly.
Can you afford the maintenance and repair costs? Understand required service schedule.
Does the dealership offer favorable return and exchange policies? Understand your options.
Asking yourself these questions ensures you find affordable transportation that aligns with your financial capabilities and lifestyle needs. Never feel pressured into a deal that stretches your budget.
Current Car Market Conditions
The pandemic and subsequent supply chain disruptions severely constrained new car inventory and increased prices from 2020 through 2022. Discounts were harder to come by and buyers often paid above MSRP.
As supply rebounds, pricing is beginning to normalize back to pre-pandemic trends. However, with inflation persisting, interest rates rising, and an uncertain economy, affordable pricing requires diligent research and timing.
Even in constrained markets, sticking to optimal car buying periods can help discover deals. For example, Chevrolet offered 0% financing for up to 72 months on several models during Christmas 2021 amid inventory shortages.
Stay patient for the best windows, run multiple price comparisons, and lock in pre-approved financing before negotiating. These practices enable smart purchases even in difficult conditions.
Conclusion
Timing is critical to scoring the best price on a new or used car. Avoid settling for sticker price by first researching models, securing financing, and then strategically shopping during opportune periods. When preparation combines with timing, huge savings await.
Keep this guide handy while plotting the timeframe to purchase your next car. With patience and dedication to finding the perfect time, you can maximize trade-in value, incentives, and discounts for the deal of the century. Just don't wait until your old car stops running before starting the process!