How Do I Get A Carfax For Free?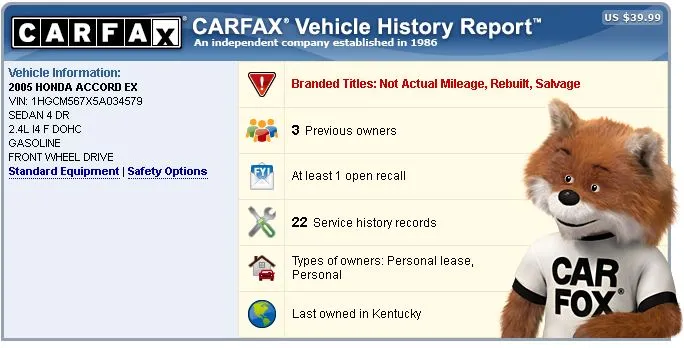 Can You Get A Carfax Report For Free?
If you found this post because you are trying to figure out how to get a free carfax report, you may or may not be in luck.
However:
What I can promise you is that if you leave me the Vin Number (Vehicle Identification Number) on any vehicle you are looking to buy, I will be able to tell you (IN DEPTH) where your vehicle has been and what it has seen in its lifetime.  
Of course…
This is only based on what has been reported to the major bureaus that companies like Carfax and Autocheck use to provide you information, so as with any vehicle I would highly recommend getting a Pre-Sale Vehicle Inspection before ever departing with your money.
Autohitch Vehicle History Report "Offer"
The first way you can run a free vehicle history report using Carfax is to continue reading. Below, I will share with you an offer I am running exclusively during the Autohitch "Pre-Launch" period as a thank you, to you, for finding our website, clicking the link, and spending your valuable time with us by reading or viewing our content. Speaking of your valuable time, let's get to it, shall we?
Getting A Carfax Without Paying (Is It Possible?)
This is an easy one- Ask the (a) dealership. "Show me the Carfax" is so mainstream that there isn't a dealership in business that thinks they can sell cars without ever providing some sort of documented vehicle history. Because of this, dealers are typically signed up to get multiple reports and pulling hundreds a month is a flash in the pan. Make sure you request a report with today's date if not, you could fall outside of the Carfax Buyback Guarantee.
Is A Carfax Report Worth It?
Carfax and the newest member of the game Autocheck provide vehicle history reports that are absolutely essential to any used car purchase. Yes, this even applies to a certified pre-owned vehicle, not so much because it's a major concern, but because the dealers that sell certified vehicles can pump out vehicle history reports at relatively no cost so, why not?!
How Accurate Are Vehicle History Reports
Great question! Although I emphasized the importance of always obtaining a vehicle history report for any used vehicle, I will also emphasize that you take the information they provide with a large grain of salt. Why? Well, vehicle history reports have a well-known flaw within the industry, and that is that they only show what was reported from their sources. These sources include:
The National Motor Vehicle Title Information System (NMVTIS)
DMV's
Insurance Companies
Dealerships/Repair Shops (With Agreements)
In other words, if the information is never sent, it's essentially as if nothing happened, and because ALL history reports are unreliable at best, you should only use them as guides. Guides that could save you time with upfront discovery or which could point you in the right direction when conducting an inspection. In summary- "Clean Carfax" really means "Keep Looking" and get yourself a vehicle inspection. ("Carfax Buying Guarantee Flaws")
How To Get A Free Carfax Report Without Paying?
This is an easy one- Ask the dealership. "Show me the Carfax" is so mainstream that there isn't a dealership in business that thinks they can sell cars without ever providing some sort of documented vehicle history. Because of this, dealers are typically signed up to get multiple reports and pulling hundreds a month is a flash in the pan.
Other Free Vin Check Sources
Third party listing sites– Many have now begun to include the dealers provided reports, or as in the case of Car Gurus, a high-level summary that can tell you enough about the vehicle to know if you should move on or move forward.
VehicleHistory.com

and

ISEECARS.com

– Not really a full history report, but they will tell you if there are any accident records or open recalls. In addition, they will give you some added information Carfax will not like: Price history, projected depreciation, the best time to buy, and other potentially important factors for car buyers.
National Insurance Crime Bureau

– The NICB's Vin Check is a free service to help you identify if a car has been stolen or reported as salvage by an insurance company. Again, this isn't the end all be all, but it is free and worth a 2-minute check, especially if you are shopping at a smaller dealership or private seller.
.
Free Carfax Reports On Reddit
You may have seen this little free carfax reports hack going around on sites like Reddit, Quora, or even private blogs. I checked out the first two I came across and they didn't do a darn thing. It's likely that people found something one day that they posted and just carelessly never removed the post. Save your time and use other methods or just pay for the real deal.
Alternatives To Carfax Reports (Similar Reports Available)
Yes, there are alternatives to the higher priced Carfax and even Autocheck reports, and one such service that I have tested is VinAudit. I compared it to a Carfax for the same vehicle and found no substantial difference in the information I needed to see. 
That being said, I have seen others with completely different results, so I'm sure this is on a case by case basis because VinAudit simply lacks the partnerships Carfax does to secure more information.
Why is it cheaper you might ask?
The name. They pull from most of the same sources with the biggest difference being that a Carfax will probably have more partnerships with dealers and shops to receive service records. But, in many cases, dealerships don't even report their service to Carfax so again, what is that information really worth, 39.99?
Which Vehicle History Report Is Best?
From my experience, it's between Carfax and Autocheck and that's really because given the significance of the reason why you are pulling the report you want to stick with the most reputable names with the most resources. I would still give the edge to Carfax if for the only reason that they still have more partnerships out there to gather the most information possible. That being said, absolutely nothing wrong with Autocheck!
Claim A Free Vehicle History Report
Now, for what you all have been waiting for, or just skipped to from the top of the page lol. If you are looking at a particular vehicle and would like some information on it send me a message in the comments and include the Vin number. Mention specifically what it is you are interested in finding out and I will pass the relevant information along at no charge. It would be my pleasure 🙂
A review of our business for a $40 product?  We hope that seems like a fair exchange…
Please Take Note:  We are now asking for a review of our business along with a free report.  
Simply leave us a quick review on Google and we will provide you with everything you need, absolutely free of charge as promised!
Post Comments (Scroll Down To Comment)